Buy a KickX Christmas gift card for someone special 🎁   ☞ show me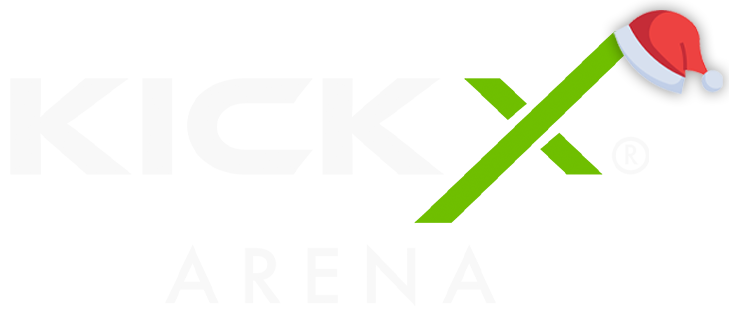 FAQS
PLEASE GET IN TOUCH IF YOU HAVE A SPECIFIC QUESTION.
How can I book a court at KickX Arena?
All court bookings are made in advance on our website for your convenience.
What's included in a one-hour booking?
Your booking consists of 50 minutes of play, with a brief 5-minute explanation (if needed) at the start and a 5-minute swap over at the end.
How many people can play on a court?
 4 players (2 v 2), though it's possible to play with 2 players (1v1), and 6 players (3 v 3) if all players are under 10 years of age.

Can anyone play at KickX Arena?
Pretty much!  KickX Arena welcomes players of all abilities, but please check the activity pages for more information on ability levels for each sport and minimum ages that apply.
Are spectators allowed?
Yes, we have a dedicated viewing gallery for our Padbol and Panna courts. Jorkyball and Teqball can be viewed from outside the courts in the dedicated seating areas. Each court can have up to a maximum of 4 viewers/guests who arrive and leave together with the players for their booked session. They will need to be on the mezzanine or dedicated seating areas.
What are your opening times?
During the summer holidays, we're open every day from 10am to 10pm.
From 3rd September 2023 we are open on weekdays 4pm to 10pm and on weekends, bank holidays, and all school holidays we are open 10am to 10pm
We are closed on Christmas Day and New Year's Day.
What age groups are recommended for KickX?
We encourage participation from all age groups, from 5 to 85! Please note that KickX VR is recommended for ages 10 and above due to Oculus headset size. Some games like JorkyBall and Panna are particularly suitable for young children.
Do you cater to parties?
Yes, we would love to host your party! Please visit our Group Bookings page and fill out the form with your inquiry.
Is KickX Arena wheelchair accessible?
The ground floor and first floor of KickX arena are fully wheelchair friendly and accessible.  However, the mezzanine level is not.
Is there parking available at KickX Arena?
Yes, and parking is free for KickX Arena customers in the Addlestone One multi-storey car park for up to two hours with every booking.  The car park is clearly signposted and can be found behind the Arena, check out our Visit The Arena page for more information. Customers will be given a receipt by our reception when they leave the arena which they can use on a ticket machine at the multi-storey car park.
Can I cancel or reschedule my court booking?
​KickX operates a 72h cancelation policy for reservations for parties with less than 5 guests. If you cancel less then 72 hours in advance of your booking no refund will be offered save in exceptional circumstances at the discretion of the management. 
If you need to cancel or reschedule your court booking, please contact our customer support team as soon as possible on enquiries@kickxarena.com. We'll do our best to accommodate your request and provide any necessary assistance.
How do I get to the arena?
Please refer to our Visit The Arena page for detailed travel information.
Will someone explain the rules and how to play?
Absolutely! Our friendly arena staff will guide you through the rules and offer tips during the first five minutes of your booking.
Do I need to bring my own ball?
No, we provide a ball as part of your booking. You are required to return the provided ball at the end of your session. Each game has specific balls and sizes tailored to the sport.
What footwear should I wear?
For your safety and comfort during sporting activities, we recommend wearing appropriate trainers suitable for exercise. Studded or spiked shoes are not permitted.
Are pets allowed at the arena?
Only support and guide dogs are permitted inside the arena. Unfortunately, all other pets are not allowed.
How do I add people to a booking?
Please send an email to enquiries@kickxarena.com with the name and contact details of the additional person(s) you would like to add.
Are changing rooms available?
Yes, each court has its own designated area for changing, and it is free of charge. We also have a limited number of shower cubicles.
Can I bring my own food and drinks?
While we understand the need for water bottles during physical activities, we kindly request that you refrain from bringing outside food into the arena.
Is there a designated smoking/vaping area?
KickX Arena maintains a smoke-free and vape-free environment. However, there are suitable outdoor areas nearby where smoking or vaping is permitted.
Can I take photos or record footage at the arena?
You are welcome to capture footage of yourself or your group playing. However, any footage that includes other players would need to be reviewed and approved by our arena staff before distribution.
Are there any official teams, leagues or competitions to join?
Yes, we are excited to announce that teams, leagues and competitions for Padbol, Panna, Teqball and Jorkyball will be available soon. Join our mailing list to stay updated on the latest news and developments.
Do you sell KickX merchandise?
Coming soon! Sign up for our newsletter to be the first to hear the exciting news about KickX merchandise.
Is there a KickX membership?
We are working on plans for KickX membership. Please sign up for our newsletter to be the first to hear about membership offers.